We at 3 Ways also offer a dedicated and comprehensive range of services for the commercial industry within our courier service with Ambient, Chilled, Frozen, Dual Temperature delivery services along with our special courier service which includes a Pallet delivery service too, get in touch today with all your enquiries and we can get you the best price and service you will find hard to beat.
3 Ways Transport is a dedicated temperature controlled courier service. Our vehicles consist of both dual and single compartment, all so we can transport your ambient stock at the same time as frozen and chilled supplies. Regardless of what temperature you need – our vehicles can adapt, as we can set the temperature anywhere between -25 degrees to +10 degrees – suiting all your ambient delivery needs.
We also, keep our vehicles well maintained, cleaning both inside and out to ensure your supplies are free from contamination. With over 14 years experience in ambient controlled logistics, 3 Ways undertake deliveries across the United Kingdom, Ireland and northern Europe – no task is too big or too small!
We pride ourselves on our professional and customer orientated approach. Our team offers a skilled service at a low and affordable cost. If you require an expert for your ambient courier needs, 3 Ways Transport is the company for you.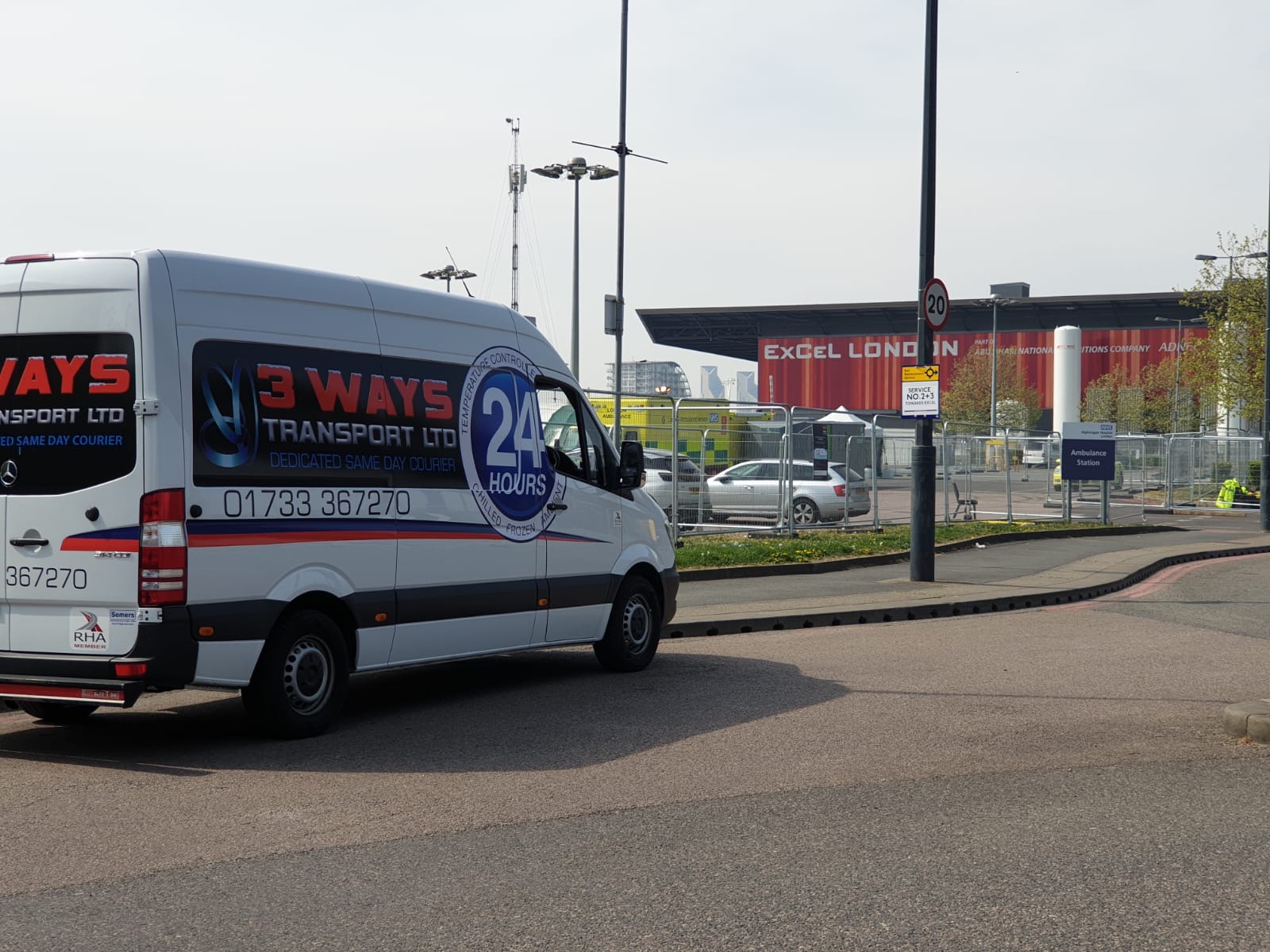 AMBIENT DELIVERY SERVICE
If you're in trouble and need ambient delivery services urgently, 3 Ways Transport offer an emergency callout 24 hours a day, seven days a week. We are always a call or email away from solving your ambient problems.
Many of our customers have praised us for our ability to still provide reliable, excellent service even with short notice. We provide continuous communication throughout our process from pickup to delivery.
If you're in need of an ambient controlled courier – 3 Ways Transport are the service provider for you. We can assure your stock is always kept at an optimal temperature and reaches its destination in perfect condition.
CHILLED DELIVERY SERVICE
We have built an extensive track record for offering a respected and reliable chilled courier service that answers to both time-sensitive and temperature-critical needs. We have put in place a range of systems and measures that offer each of our clients the trusted assurances they require when transporting their delicate and/or valuable items. We know that when it comes to transporting chilled medical, pharmaceutical and other items, exact temperature is key.
Given the specificity required with regards to temperature management, it is vital that you select an expert chilled courier who can provide reliable transit at all times, ensuring that you have the peace of mind of knowing your transport is secured. Having established ourselves as one of the most reliable chilled courier options in the UK and beyond, our team will be able to help you find the exact chilled transport option that suits you best.
FROZEN DELIVERY SERVICE
There's nothing worse than receiving your frozen goods melted and damaged. That's why here at 3 Ways Transport, we courier your frozen products on time and in perfect condition. During the delivery, we will keep your product under the correct temperatures. With many years of being a frozen courier service, we pride ourselves on our quality of expertise.
We provide a fully committed temperature controlled courier service. Our team makes sure your goods maintain the right temperature with our vehicles having both single and dual compartments. These compartments mean we can transport your frozen stock at the same time as non-frozen goods.
You can also have peace of mind knowing that we clean and sterilise our vehicles between every delivery, so your products will remain free from contamination.
DUAL TEMPERATURE DELIVERY SERVICE
With our dual zone vehicles, we can keep products at the correct climate. Even if there are multiple products all requiring different temperatures, our fleet can maintain this. Temperatures can be set bespoke to the products that need delivering. Our state of the art vehicles can keep goods at -25 degrees all the way through to +10 degrees.
Our team travels the length of the UK, Ireland and Northern Europe – all to get your goods to their destination in perfect condition. You can guarantee that your products – frozen, chilled or ambient – will arrive in impeccable condition. We also offer a multi-drop service, which means if your goods have multiple destinations, we can deliver to them all. Whatever your courier needs, 3 Ways can help you.
COMMERCIAL COURIER SERVICE
We equip ourselves with a large fleet of vehicles, which are all available 24 hours of the day, seven days a week. If you are in need of courier requirements urgently, our team is only a call away.
We operate our phones consistently. Once you have contacted us, we guarantee to have a vehicle sent to you within 15 minutes. After all, we are here to provide you with a dependable and excellent service. 3 Ways Transport is proudly renowned for being efficient and cost-effective. This approach makes us the number one company for your pallet courier needs.
If you need your pallets transporting, contact our professional team today.
PALLET DELIVERY SERVICE
Our team at 3 Ways Transport offers a commercial pallet courier service – ensuring we deliver goods in perfect conditions. We can guarantee we will transport your palletised goods quickly and safely. Our couriers can offer one of the best services in the field, making sure we manage your products effectively. We take good care of your products from their point of origin to their destination – keeping them in perfect condition.
3 Ways Transport services are made to offer our customers dependable and cost-effective transportation. All of our approaches are tailored to meet every pallet delivery. It is essential to have the correct vehicle and courier specialists when transporting pallets, as there are always risks. But, we are here to eliminate these risks and offer our reliable services.
Our fleet of pallet vehicles are available for on and offloading, all at your request. The load area dimensions of our fleet are 4.5 meters in length, 2 meters in width, and 2.2 meters in height – making it the perfect size for loading & delivering pallets.
DELIVERY SERVICES PETERBOROUGH
Unit 3, Brookfield Trade Park, Lincoln Road, Peterborough. PE4 6LG